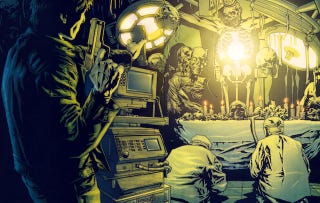 This time it's the former DC/Wildstorm series Global Frequency by Warren Ellis. The show will be produced by Jerry Bruckheimer, written by Farscape's Rockne S. O'Bannon, and will follow an organization devoted to fighting crime, along with a team of over 1,000 anonymous agents around the world.
Here's the official summary of the comic from Wikipedia:
The Global Frequency is an independent, covert intelligence organization headed by a former intelligence agent who uses the alias of Miranda Zero. There are reportedly 1,001 people on the Global Frequency, forming an active smart mob communicating by specially modified video mobile phones through a central dispatch system coordinated by a young woman code-named Aleph.

The purpose of the organization is to protect and rescue the world from the consequences of the various secret projects that the governments of the world have established, which are unknown to the public at large. The people on the Global Frequency are chosen and called on for their specialized skills in a variety of areas, and include military personnel, intelligence agents, police detectives, scientific researchers, academics, athletes, former criminals and assassins. The threats addressed by the organization are equally varied and usually world-threatening, including rogue military operations, paranormal phenomena, terrorist attacks and religious cults.
Admittedly, Global Frequency doesn't have the superhero angle that movie comic book shows (and networks) are looking for these days, but it does have this going for it:
Ellis designed the comic series like a television series with standalone "episodes", allowing the reader to begin with any issue and be able to understand what was going on. As a result, the only regular characters in the series are Miranda Zero and Aleph, with only a few other characters making a reappearance in the twelfth issue of the series. This also heightened the suspense for the reader, as the survival of these characters was not guaranteed.
On the other hand, apparently The WB tried to make a Global Frequency show back in 2005, as well as The CW in 2009, and neither of those worked out. Enh, we'll see one way or the other.
[Via Deadline]